So, you want to know more about essential oils? SO glad you asked!
Essential Oils are something I use everyday, not just to make my house smell good, but they are used in my makeup, cleaning products, toiletries, skincare, haircare, and even for emotional & physical support.
So first off, what are they? Literally essential oils are just plants, that have gone through a process that
gets the most concentrated, potent part out of it, the oil. Each oil does something different for our bodies, just like every fruit or vegetable has different minerals & properties that help different things in us. Being a Christian, I have heard a lot of people bash these oils, but they don't realize that they are actually bashing plants that God gave us to help our bodies. You can read more about that in my article,
Why Essential Oils are Okay for Christians here
.

But on the other hand, did you know that companies can say they are selling "pure, therapeutic grade" essential oils and it only has to contain 5% of the actual oil?! That means it can be filled with all sorts of other stuff and you have no idea. And I learned that the hard way.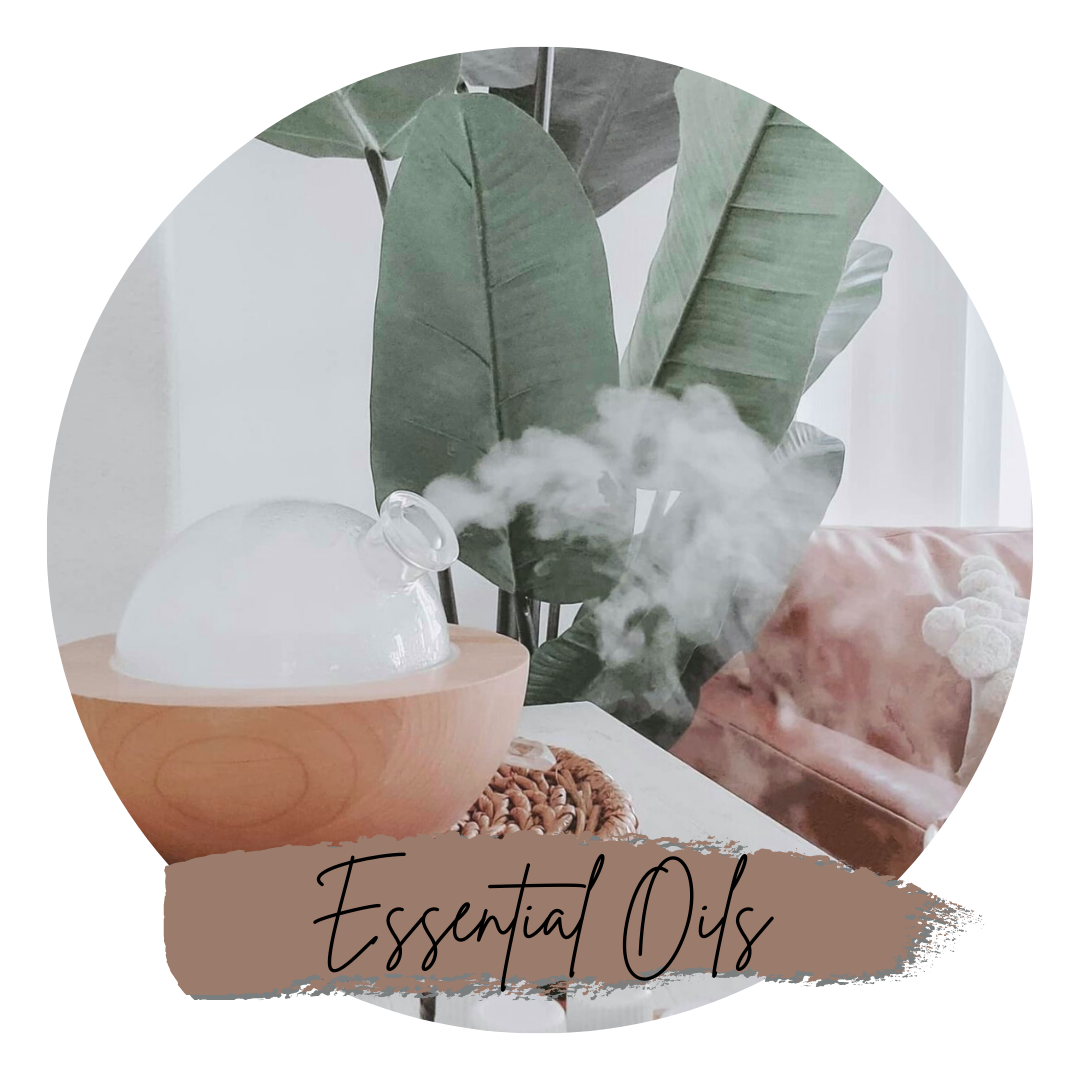 MY OILS STORY
A few years ago I decided to bite the bullet and grab a starter kit full of essential oils from Young Living. I thought maybe they could make my house smell nice in place of candles & those "essential oil" infused plug ins that I could tell were synthetic (they always gave me headaches). But I truly had no idea just how much they could do for me and my family. I also was totally unaware of all of the toxic ingredients lurking in my household and personal care products, but joining this community really opened my eyes to that. (So did the documentary called "Stink" which you can
watch here for only $2)
But since Young Living pretty much has everything you could ever need product wise (cleaning, skincare, hair care, kids & baby products, makeup, supplements, etc!) it made it much less overwhelming to make the switch to natural alternatives.
Lastly, their oils are top notch! They are genuine, unadulterated essential oils which means they actually work. A year or so before getting my starter kit, I remember buying a few 'essential oils' from Whole Foods to make a DIY bug spray, but honestly, it
didn't
work so those 'oils' got put in a cabinet and collected dust. Turns out creating pure essential oils is an absolute art & science, that the company must get totally right for oils to be powerful and effective. Young Living nails it and takes the upmost care of their farms and plants. You can read more about
Why I chose Young Living
and
their Seed to Seal guarantee
here
.
HOW TO GET STARTED
The best way to get started is with a bundle, or starter kit – you can choose ones curated by YL (my personal recommendation), one created by me (just ask!), or you can just buy whatever products you want!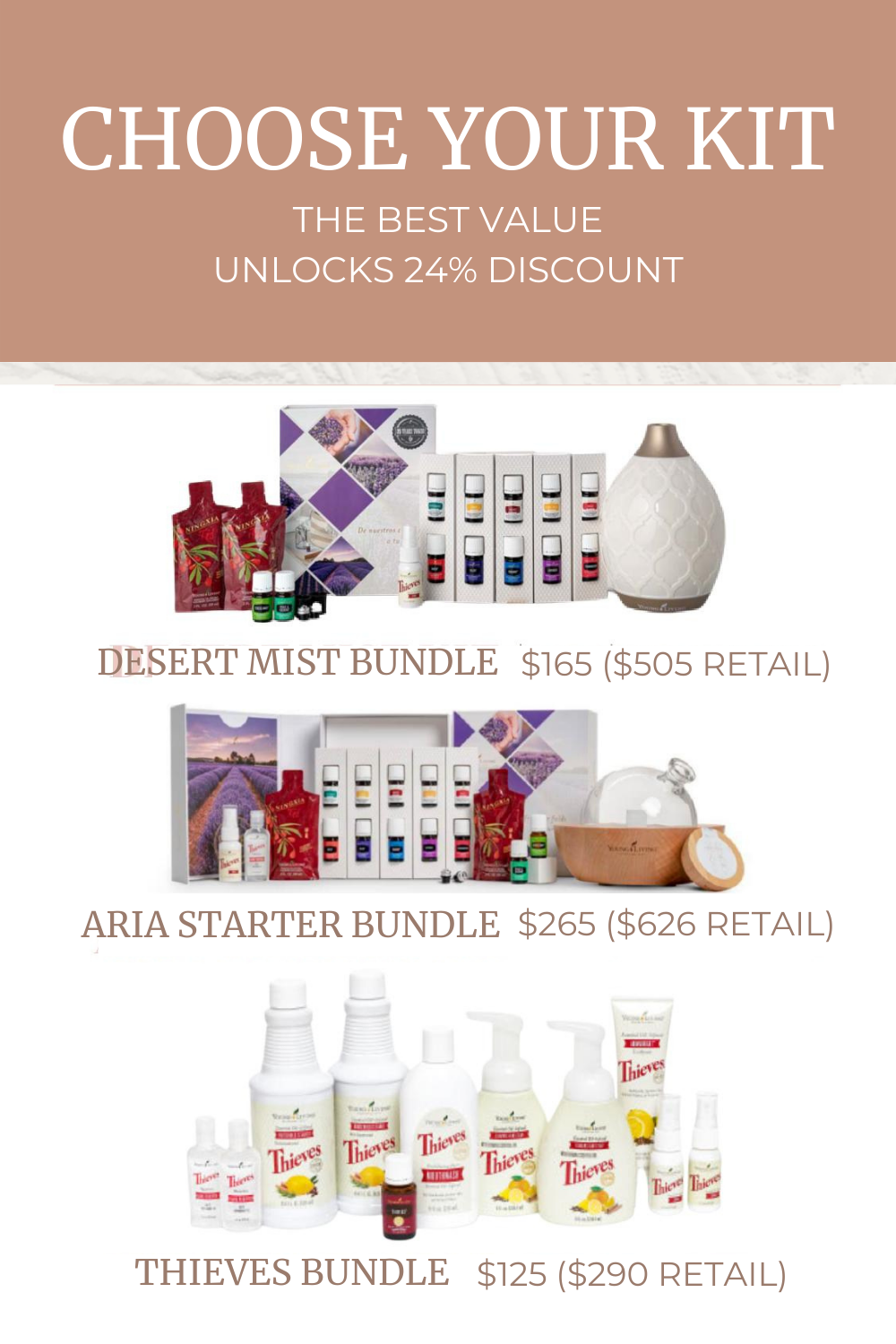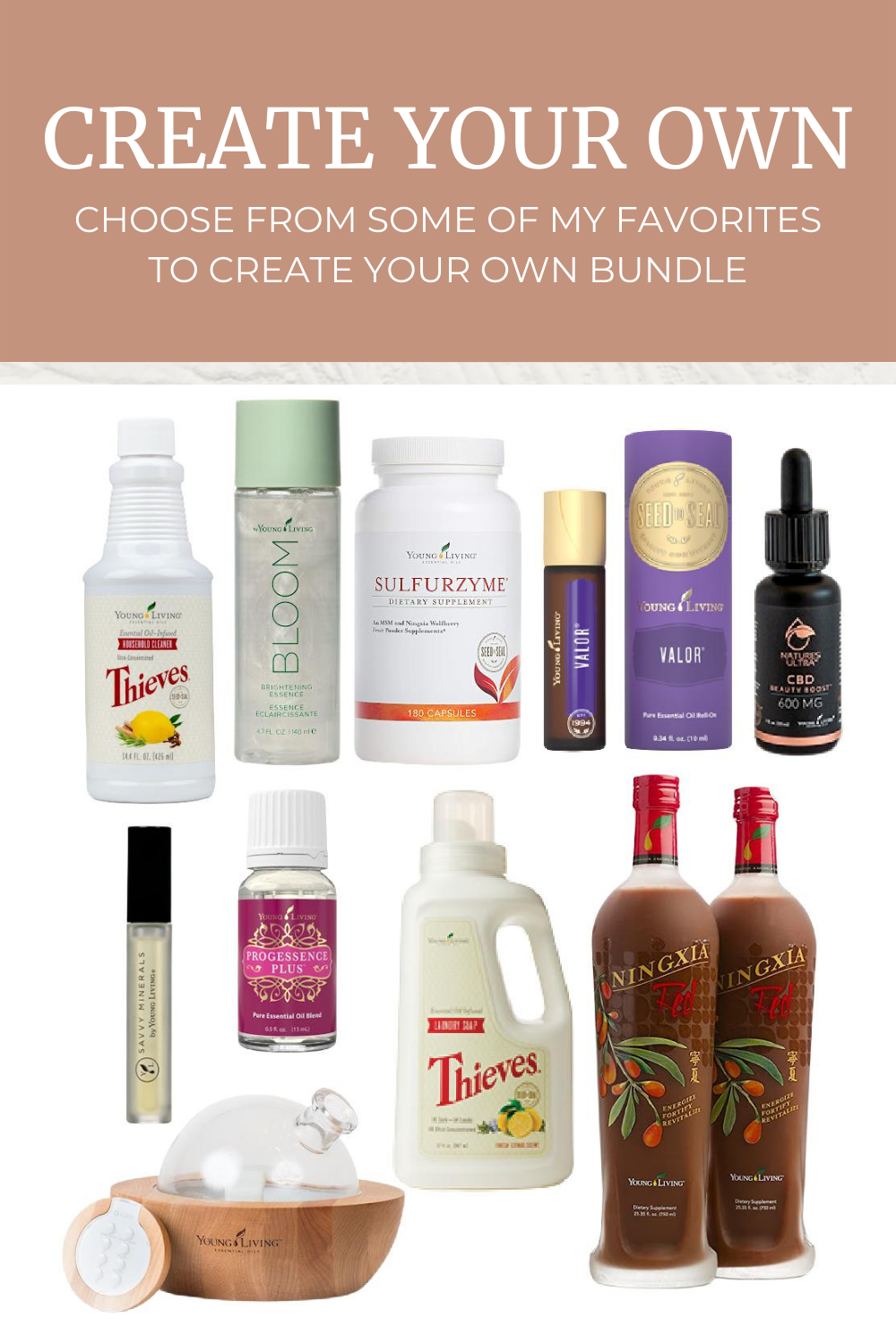 Thieves Household Cleaner
– the BEST cleaning product, hands down! I use this to clean my entire house. Countertops, crusty ovens, toilets, showers, carpet stains, baby toys, mirrors, windows, etc. It's a concentrate, so one bottle makes about 30 bottles of all purpose cleaner.


BLOOM Essence
– this is one of my favorite skincare products of all time! It's basically a toner of steroids – it has a silky feeling on this skin, has brightened my complexion so much, and even has mica powder in it so leaves a very subtle glow on my face!


Sulfurzyme
– one of my most favorite supplements from YL. This is a hair, skin, and nails supplement – it contains MSM (methylsulfonylmethane) which directly helps your body build keratin. I have noticed such a difference in the strength of my nails & it's also really helping to grow my hair back out!


Valor
– my top favorite oil blend of all time. It's my 'courage in a bottle' that helps ease my nerve and make me feel calm. It's my daily perfume because it smells incredible. It's also one of my favorite oils for sleep – just roll right on the chest & wrists.


CBD Beauty Boost
– I'm not kidding when I say this stuff is a miracle product. I will NEVER be without this. I use it nightly as my skin serum – it has dramatically reduced redness & helped my skin look more even, it has reduced the wrinkles forming around my eyes, and makes my skin so smooth & soft. I hardly wear face makeup anymore and this is why!


Lip Luxe
– the most amazing lip treatment EVER. I apply this every night before going to bed and I'm completely addicted. It feels like butter and I always wake up with the softest, most moisturized lips. I don't use lip balm during the day nearly as much now so I know it's actually moisturizing my lips.


Progessence Plus
– an absolute game changer for hormone support. I use this oil blend daily and it has helped me so much with balancing out & regulating my hormones naturally. So many women swear by it!!


Aria diffuser
– hands down my favorite diffuser. She is absolutely GORGEOUS! And actually, getting a starter kit with the aria diffuser gives you the best deal on it by far.


Thieves laundry soap
– the only stuff we use to wash our clothes! No fragrance, no SLS, no optical brighteners..nothing but clean, safe ingredients and it works! Also super concentrated so you can get at least 64 loads out of this bottle. We tend to stretch it even more!


Ningxia Red
– my whole family drink this everyday, we love it! It is a super antioxidant rich, whole food supplement made from wolfberries (a type of goji berry). It's nutrient dense and gives the body a major flood of antioxidants with just a small 1-2 oz serving. And it's tasty!! Tastes like pomegranate juice, except sweet not tart. A daily staple for us for whole body health


Choosing a kit starts you off with an amazing bundle, plus

unlocks that 24% discount

on everything from now on! There is zero obligation to order anything after your kit, but with over 600 amazing products for
everyone
in the family, why not! But, if you are like me and really want to Ditch & Switch the toxins in your home, you can get rewarded for ordering monthly (free gifts with purchase + shop credits back on each order) through a "Loyalty Order"
.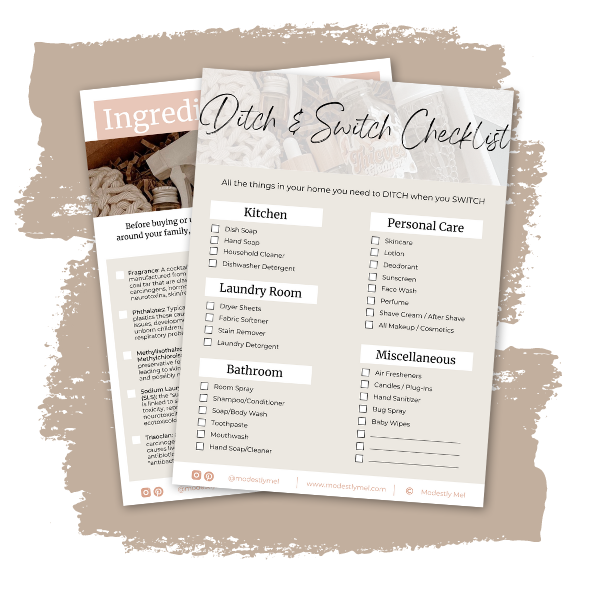 FREQUENTLY ASKED QUESTIONS
Do I have to sell this stuff?
Absolutely not! The majority of those purchasing from YL are strictly customers who just love and use the products. There is no obligation to sell and also zero pressure to do so – ever.
Do I have to order every month?
No! There is no monthly commitment. You can technically purchase a kit and never order again! (But with over 600 amazing products, who would want to stop) You can use your 24% discount and order whenever you'd like. Though you get rewarded when you DO order monthly (at least 50PV) through Subscribe to Save.
There are no fees! To keep your account active, just place a minimum of 50PV per year, and to keep your 24% discount, have something on subscription or spend 100PV in one order once a year.
How will I know how to use everything?
Don't worry one bit. When you sign up with my community you get access to TONS of classes and resources that will teach you about everything Young Living offers. Plus, you also get ME and our community to help you whenever you need it!
Is there an order minimum?
There is no minimum. Order as much as you want as often as you'd like with your wholesale discount! But like I said, if you want cash back through our Loyalty Rewards, there is a 50PV (like $50) minimum through Subscribe to Save.
How do I help someone sign up and purchase from YL?
In your account, you will have a SHARE YL link that you can share with any of your family or friends. That will connect them into your community. Though if you want to referral commission on sharing, you can easily become a Brand Partner. Find out more about that

here

. Remember, You are never required to sell oils, and never pressured to do so either. Although, once you discover how wonderful they are, it will be hard not to tell your friends!