During the Holiday Season, it's easy to get caught up in all the things: family, friends, food, decorations, etc, and none of those things are bad! "Every good and perfect gift comes from above" (
James 1:17)
and God has given us these gifts to enjoy and to bring us to remembrance of His faithfulness.

But let's not forget the real reason for the season and thank God for all He did for us two thousand years ago. So this Thanksgiving, here are some of my favorite Bible Verses of gratitude, thanksgiving, and praise.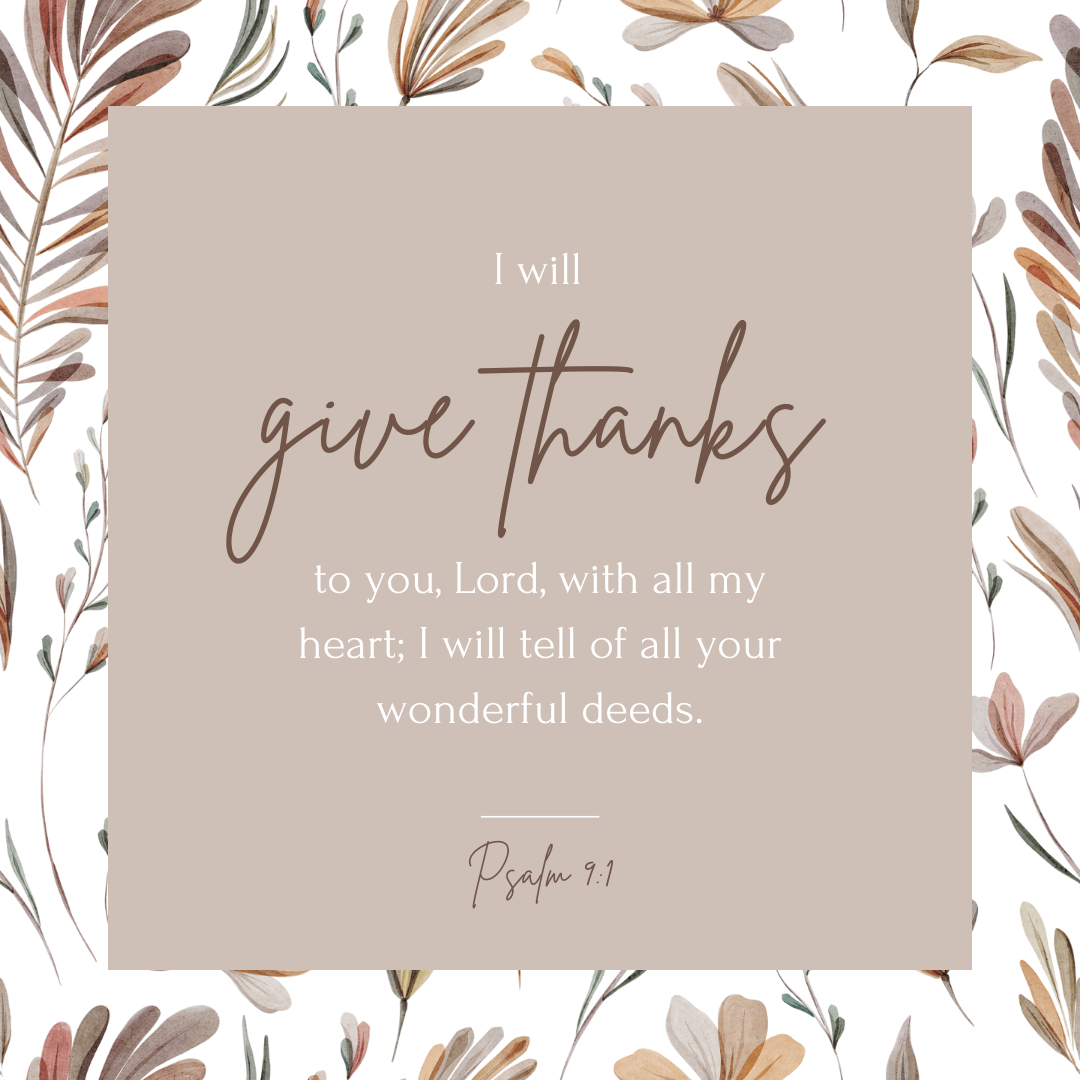 Thanksgiving day bible verses
Psalm 9:1
"I will give thanks to you, Lord, with all my heart; I will tell of all your wonderful deeds."
Psalm 107:8-9
"Let them give thanks to the Lord for his unfailing love and his wonderful deeds for mankind, for he satisfies the thirsty and fills the hungry with good things."
Jeremiah 30:19
"From them will come songs of thanksgiving and the sound of rejoicing. I will add to their numbers, and they will not be decreased; I will bring them honor, and they will not be disdained."
Psalm 100:4
"Enter his gates with thanksgiving and his courts with praise; give thanks to him and praise his name."
1 Thessalonians 5:18
"Give thanks in all circumstances..."
Psalm 69:30
"I will praise the name of God with a song; I will magnify him with thanksgiving."

1 Timothy 4:4-5
"For everything God created is good, and nothing is to be rejected if it is received with thanksgiving, because it is consecrated by the word of God and prayer."
Philippians 4:6-7
"Do not be anxious about anything, but in every situation, by prayer and petition, with thanksgiving, present your requests to God. And the peace of God, which transcends all understanding, will guard your hearts and your minds in Christ Jesus."
James 1:17
"Every good gift and every perfect gift is from above, coming down from the Father of lights with whom there is no variation or shadow due to change."
Colossians 3:17
"And whatever you do, in word or deed, do everything in the name of the Lord Jesus, giving thanks to God the Father through him."
1 Corinthians 15:57
"But thanks be to God, who gives us the victory through Lord Jesus Christ."
Psalm 28:7
"The Lord is my strength and my shield; my heart trust in him, and he helps me. My heart leaps for joy, and with my song I praise him."
Psalm 106:1
"Praise the Lord. Give thanks to the Lord, for he is good; his love endures forever."
2 Corinthians 4:15
"All this for your benefit, so that the grace that is reaching more and more people may cause thanksgiving to overflow to the glory of God."
Psalm 95:2-3
"Let us come into his presence with thanksgiving; let us make a joyful noise to him with songs of praise! For the Lord is a great God, and a great King above all gods."
1 Chronicles 29:13
"And now we thank you, Our God, and praise your glorious name."
Jeremiah 30:19

"Out of them shall come songs of thanksgiving, and the voices of those who celebrate. I will multiply them, and they shall not be few; I will make them honored, and they shall not be small."
So hopefully these Bible verses cause gratitude to flow from your heart to God this Thanksgiving Day. He is good!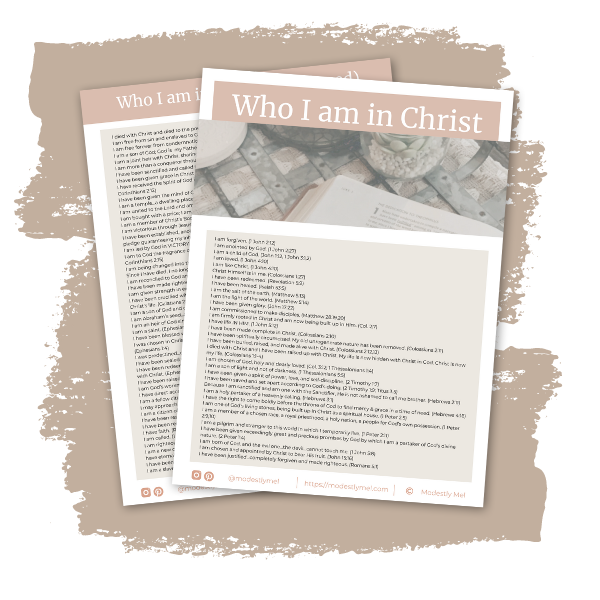 Do you need to get freedom from the lies & walk in the TRUTH of who God says you are?
Then grab my FREE SCRIPTURE LIST to help you remember and declare your identity in Christ so YOU can live with freedom and purpose
here.