Being in the Christian world for quite a while, it was only natural that I met people who were into essential oils. Because of the fact that essential oils are just plants that God gave us, many God-fearing people would rather use natural means for healing than "drugs". But me, I just thought they were weird hippy things... that is, until they actually helped me and changed my life. (Read more about Why Christians Should Not be Afraid of Essential Oils here)
So now that I am a literal FAN of essential oils and the benefits they provide, people ask why I choose Young Living oils over all the other brands out there, especially if they seem to be "more expensive". So let's jump into my top three reasons I chose YL over everything else.
Reason 1: Purity & Regulations
Did you know that there are hardly ANY regulations on essential oils. Like, almost nothing. Unlike food, you cannot rely on labels to tell you what is inside.
For example, companies are aloud to "claim" a bottle of oil contains 100% pure essential oil (for example, Tea Tree) but it only ACTUALLY has to contain 5% of said oil! What? That sounds like 95% lies to me! The other 95% could be chemical extenders, artificial fragrances, fillers, etc. But the bottle can and will still say 100% pure. How is this even legal? And they don't even have to disclose what else they put into it.
So if there aren't any regulations placed on any companies, why Young Living?
Young Living has what is called their 'Seed to Seal' promise. They own their own farms, or partner with farms around the world, and run their own distilleries, all of which are onsite on their farms (no other essential oil company in the world has this). So from the time they plant seeds on their own farms (which they only use essential oils on for pest control, no pesticides or anything unnatural) to the time they seal the bottles I purchase, they are fully in control of the process. They even check the quality of the soil the plants are grown in! So it truly is the most quality control any brand can offer.
In a market full of essential oils that you can't necessarily trust their labels, I find a lot of comfort spending my money on a company that is totally transparent about their process. And not only are they just transparent, they are passionate about their hands-on farming practices. They truly practice the art of organic farming and take so much pride in their old school methods. In fact, you can even go visit their farms! You can explore, chat with the farmers, feel the soil with your own hands, smell the plants with your own nose, view oils distilling with your own eyes. They have absolutely nothing to hide, which is why I trust them and only them.
Reason 2: Therapeutic Grade
The other main reason is because Young Living's oils are 100% therapeutic grade. (Again, you may see this on labels – but there are no regulations on this claim either) YL distills each and everyone one of it's oils to ensure they reach their highest potential. Some distillation times for maximum effectiveness are fairly short, and others take much longer.
Less expensive oils, for example the ones you see at health food stores or on Amazon, will generally just distill all of their oils for the same amount of time, across the board. Meaning they will only be fragrance grade, and devoid of all of the powerful benefits that therapeutic grade oils contain. Ever heard people say "essential oils don't work"? Well its probably because they were using oils that aren't actually "therapeutic grade" even though the label says it. There is so much that goes into properly distilling essential oils, distilling time is just one example.
Another example, there is also a key window from the time that each plant is harvested (cut) to the time it is distilled, and each plant has a unique window that allows the constituents and properties of that plant to become their strongest. The creation of essential oils is an art form, one that Young Living not only takes very seriously but is so passionate about getting right.
Reason 3: The VAST Amount of Products (AKA my Non-Toxic "Easy Button")
The last reason is a little more personal but relates to what I feel a LOT of people deal with. When I learned about the chemicals in our everyday products and the havoc the were wreaking on my health and the health of my loved ones, I knew I needed to change EVERYTHING. But if you're not an ingredient "expert" how do you actually know what is safe?

I found myself wasting HOURS each day researching companies, reading labels, and having to buy concealer over here, foundation over here, laundry detergent here, supplements over here... the whole process was SO overwhelming and SO exhausting.
So when I found Young Living and realized they have over 600 products, I almost cried with relief. You mean, I could buy ALL the non-toxic things I could ever need from ONE place, and never have to research ingredients again cause I know they only use the safest ingredients?! And because of that, I was sold. My one stop shop for oils, makeup, personal care products, skincare, cleaning products, kids/baby products, pet products, the best supplements, everything! I am forever grateful I found my Non-Toxic Easy Button and it's made the switch go from overwhelming to invigorating.
There are SO many other reasons I could name - the community, the integrity of the company, the cash back benefits, etc, but I think the above three are the most important.
If you want to truly have the same transformative experience that I've had with oils, and to really experience the true power of plants, you HAVE to get the good stuff. You get what you pay for, but as you can see, it is worth getting what's real!
So, are you ready to dive in? Find out more about how to get started with essential oils here.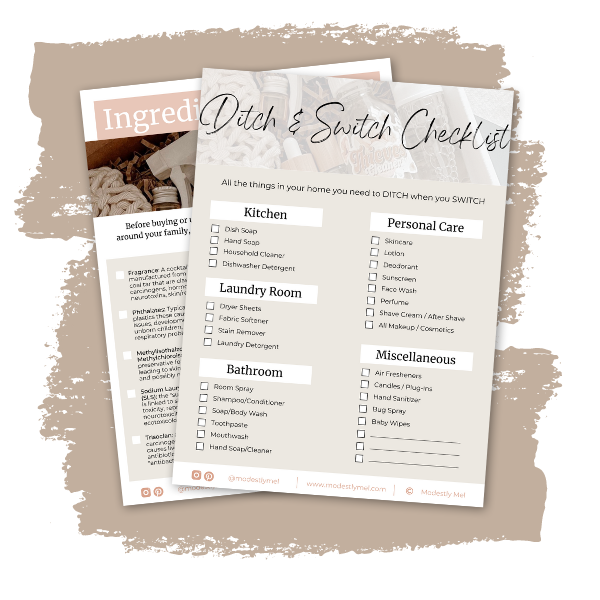 Serious about ditching all your toxic chemicals & switching to all-natural ones that God made?


Grab my free Ditch & Switch Checklist so you can begin your non-toxic journey today!